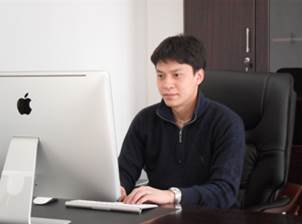 Education and Academic Professional Experience
2020.1-Present   Tang Au-Chin Scholar Ying-cai Professor, Jilin University
2010.9-Present   Professor, Institute of Theoretical Chemistry, Jilin University, China
2013.3-Present  Adjunct Professor, Chemistry Department, University of Waterloo, Canada
2009.9-2010.9  Senior Research Associate, Nanoscale Superfluidity, Chemistry Department, University of Waterloo, Canada (with Profs. P.-N. Roy and R. J. Le Roy)
2007.9-2009.9   Research Associate, Quantum Molecular Dynamics, Chemistry Department, University of Waterloo, Canada (with Profs. P.-N. Roy and R. J. Le Roy)
2005.9-2007.8   Postdoctoral Fellow, Theoretical Physical Chemistry, Chemistry Department, University of Waterloo, Canada (with Prof. R. J. Le Roy)
2002.9-2005.7   Ph.D Student in Physical Chemistry, Institute of Theory and Computational Chemistry, School of Chemistry and Chemical Engineering, Nanjing University, Nanjing, China (supervisor: Prof. Daiqian Xie)
Research Interests
Determination of the potential energy surfaces (PESs) for the polyatomic molecules or weakly bound systems
Exact full quantum calculation of the infrared or microwave spectra for small molecules or molecular clusters
Development of Path Integral Monte-Carlo (PIMC) or Path Integral Molecular Dynamics (PIMD) methods
Development of new method to calculate 1-D, 2-D IR spectra
Simulations of the microscopic superfluidity in doped quantum solution
Simulations of the IR spectra of aerosol in the atmosphere
Awards and Honours
2017 "Talents Cultivation Program" of Jilin University
2016 Tang Au-Chin Young Investigator Award in Theoretical Chemistry, Chinese Chemical Society
2014 Chemical Physics Letters Outstanding Contribution in Reviewing
2012 Program for New Century Excellent Talents in University, Ministry of Education of China.
2012 High-Level Innovative and Entrepreneurship Talent Program, Jilin Province.
2010 Scientific Research Foundation for Introduced Talents, Jilin University.
Contact
Address Institute of Theoretical Chemistry, Jilin University, 2 Liutiao Rd., Chaoyang District, Changchun City, P. R. China
Post Code 130023
Office Room 202, Technical Building, North Qianwei Campus
Telphone +86-431-88498159
Email prof_huili@jlu.edu.cn